The notary – experienced, independent, responsible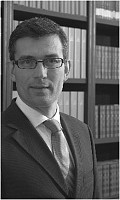 Martin Gutsche has gained in-depth experience in all of his main specialist fields as an attorney and as a tax advisor. He was active in one of Germany's biggest small-scale auditing and tax consulting societies and as a partner in an interdisciplinary society of attorneys, auditors and tax advisors. He particularly focused on real estate accountancy laws, transaction consulting, inheritance and inheritance tax law, and both private and corporate succession planning.
As a notary, he independently and impartially offers his specialised knowledge to all parties involved in legal transactions and provides detailed advice on possible consequences.
Accreditation as attorney
Appointment as notary in Berlin, Germany
Certified tax law attorney
Certified inheritance law attorney
Accreditation as tax advisor
Previously studied at the College of Administration/Tax administration
Member of the German Lawyers´ Association´s lawyers´ notary office, tax law and inheritance law project groups as well as the German Association for Inheritance Law and Asset Succession.